SparkPost Email Sending Service
Email delivered on time and to the inbox. Send hundreds, or billions, of emails from your app to your customer's inbox.
SparkPost's email sending service lets you easily send email from your app. Reduce customer churn and acquire new customers by sending transactional emails that reach the inbox on time.
Two Factor Authentication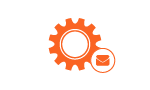 The world's most demanding senders rely on SparkPost to deliver billions of emails every day. That's more than 37% of the world's business email. App generated emails play a critical role in acquiring and retaining users
As your customers engage with your product, improve their experience by connecting with them at critical moments of the customer journey. Take advantage of transactional and trigger-based emails that are known to influence product loyalty.
Send quickly, and send in the cloud with our cloud-based email API. SparkPost's email sending service gives you the ability to manage customer relationships by building programmatic API-generated emails sent directly from your product to your users inbox.
Manage your email sending efforts and access real-time performance data
Visualize your email performance in one centralized location. With SparkPost, you have the ability to build reports, segment analytics, and access over 35 real-time metrics of message performance and customer engagement with product emails.
Whether you want a quick overview or need sophisticated filtered views, SparkPost's analytics dashboard makes easy work of interactive queries of email metrics. Drill down by recipient, campaign, template, and more.
Speak with a SparkPost team member to learn more
Complete the form below and an expert SparkPost team member will reach out to you to help you get started and start sending.