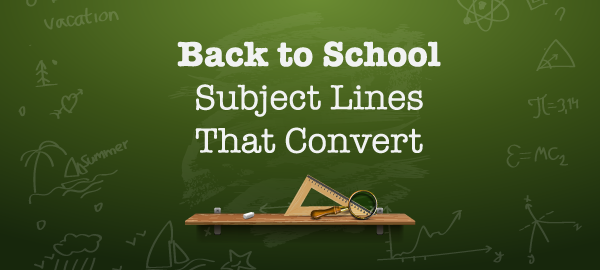 It's that time of year again! Summer is wrapping up and vacations are coming to an end but retail is just getting started. Back-to-school time for many retailers is just the start of their long holiday season ahead. With the extended holiday season and shoppers shopping as early as October, many retailers are using Back-to-School campaigns to test what works and what doesn't in their email campaigns.
In fact, many retailers started as early as August 1st with their Back-to-School campaigns. Why not earlier? Because no one is thinking about school in July, they're thinking about vacation and they don't want summer to end. But when August rolls around, you can start to plant the seed with a drip campaign, for example.
Here are some examples of email subject lines that are sure to convert.
Emails that show a sense of urgency tend to convert. According to behavioral psychologists, urgency tends to propel people into acting quickly and suspend reason, thus convert. As you can see in the SF Wine School, they sent out an email one week prior to the deadline of their promotion.

Relevant messages tend to convert. Every industry and market segment is different and will respond differently to messaging. What might be relevant to some, might not work for others. That's why we test subject lines. For example, BlueHost cleverly taps into their audience with a relevant message by pimping their web design services and pairing it with a generous discount.

Do you have a Back-to-School email that you received that stood out? Tell us why in the comments below.
See you online!
Tracy @tracysestili

Email Marketing News Digest
In this week's issue, we look at a preview statistic from the 2013 DMA Tracking Study, the average company response time to complaint emails, reasons why consumers mark email as spam and ways to work that subject line!
Segmentation driving email…driving segmentation
One third of respondents in the 2013 DMA tracking study still feel that 20% or less of the emails they received were relevant – a clarion call to marketers to start doing more segmentation with their lists. Superficial personalization may well be falling out of favour, but subscribers appreciate emails that are properly customized to their preferences. The official 2013 DMA tracking study will be launched on October 17 and needless to say, we'll definitely be looking forward to seeing the results.
News Byte: 59% of Companies Take More Than Eight Hours to Respond to Email Inquiries
When it comes to email enquiries, 59% of companies take more than 8 hours to respond, and 26.5% take 24 hours or more. Email remains the most common channel for complaining with 42% of respondents listing it as their preferred channel and 36% listing the phone. For comparison, the average Twitter response time is 4.6 hours. If you're one of these companies that have a long lag time in responding to customers then it seems that automation may be the way to go.
Read about how US Airways has managed to raise customer satisfaction in the case study, or watch the video below.
Top Reasons Consumers Give For Marking Emails as Spam
Here's a finding that would make most email marketers sit up and take notice: Reasons why subscribers mark your email as spam.
Four Approaches to Make Your Subject Lines Work Harder
Subject lines remain one of the main determinants on whether an email is opened. If subscribers can't be bothered to click on your email, they can't see your special enticing offer, which means the possibility of a sale is absolutely zero. Here are some ways to get your subject lines noticed.
Incorporate special characters like ✈
Frontload subject lines with the most important information
Include Quick Action buttons from Gmail that allow subscribers to convert without opening your mail
Infographic: How Email Strategies are Changing