Editor's note: We sent our mobile marketing expert and Product Marketing Director, Jose Santa Ana out to the Mobile World Congress in Barcelona where he had a blast… and came home with a multi-part series on what's new in mobile! Watch this space as we reveal Jose's adventures in Barcelona over the next few weeks!
It's been just over a week since Barcelona welcomed 80,000 attendees to Mobile World Congress 2014, and many a post has already been published recapping the record-breaking (in terms of attendance) event, but I thought I'd share my two cents anyway on the largest mobile event in the world today.
Needless to say, it was a huge event, spanning 8 huge halls full of auditoriums for conferences, exhibitors' booths both large and small, meeting rooms, networking pavilions, and places to find nourishment and libations after exhausting yourself walking the enormous venue.  The event is so large, in fact, that it would clearly be impossible to cover everything in a single blog post – unless the post was War-and-Peace long.  So I'll stick to what I think stood out the most at the congress (which already spans several posts):
Mobile hardware: As Ned Stark learned, no leader is safe
It's clear from market share and sales figures that the mobile hardware market is still ruled by two big companies: Apple and Samsung. However, one wouldn't think this from looking at the show floor.  First (as usual), Apple didn't even bother to grace us with her presence.  And second, unlike in previous years when Samsung stood out above the rest, this year they seemed to be just another among many.
The other mobile hardware vendors: Sony, LG, HTC, Huawei, Xiaomi, Nokia, Lenovo are moving ahead, taking slices of the pie, enhancing their offerings and gaining a foothold in the nascent wearables space. The product gap between leaders and followers is almost gone. They showed powerful devices at competitive prices with complete lineups that included smartphones, tablets, phablets, fitness wristbands and smartwatches.
Speaking of smartwatches, MWC14 has shown that smart wearables are here to stay. Some might even say wearables stole the show at MWC14.
Wearables began as one of those innovations started by a few disrupting companies a couple of years ago (Pebble, Fitbit, Jawbone) and questioned by the rest. Today however, it seems they are flourishing over expectations. Almost all big handset manufacturers in MWC14 have included wearables in their lineup, mostly as wristband fitness trackers and smartwatches.
In fact, the Samsung Galaxy Gear Fit, unveiled at MWC14, was awarded as best-in-show gadget. Fitbit's was also one of the most talked about devices at MWC14 because of its initiative #FitbitChallenge which o­ffered attendees the chance to experience the e­ffect of wearable technology.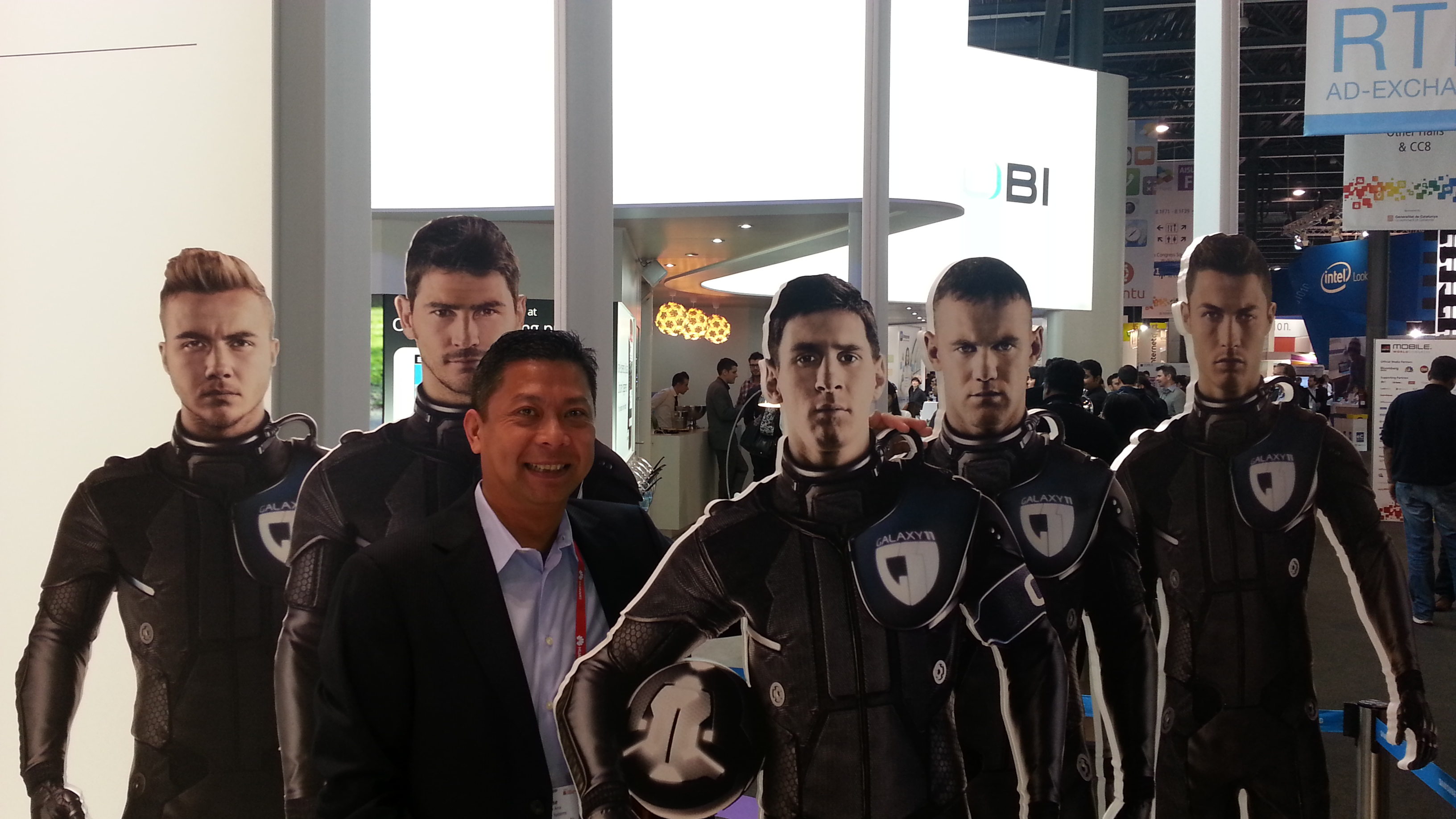 Conference Sessions: Now Playing Second Fiddle
Sessions where industry bigwigs and giant players talk about the state of the industry used to be the concept that drove the Congress.  However MWC today is more an opportunity to network: find partners and clients, unveil upcoming products and let the world know who you are and what your role is in the space.
So while there were still tons of scheduled keynotes and seminars with flashy titles aiming to explore interesting topics throughout the 4 days, Mark Zuckerberg's keynote and Jan Koum's speech captured the bulk of the attention. The recent Whatsapp acquisition by Facebook has been the biggest and most strategic market move involving mobile apps so far, so the whole world wanted to know what they had to say about it.
Koum explained how his childhood dream of connecting people became a reality and announced that Whatsapp will finally support calls by the end of the spring 2014.  Zuckerberg focused on the potential of Whatsapp to get beyond 1 billion users and how successful Koum's invention has already been at engaging people precisely where Facebook Messenger couldn't reach. Zuckerberg also talked about the commitment big Internet companies like Facebook must make to bring connection and services to the emerging countries, though we all know the real motivation behind the acquisition – more users on his platform for marketers to target!
Up next week… mobile operating systems and a connected future at Mobile World Congress 2014! While you wait with bated breath, why not watch David Kirkpatrick and his take on how Message Systems' clients are changing the way the world communicates.
Jose Santa Ana  and Julie Ask, VP & Principal Analyst at Forrester team up to talk about mobile customer engagement in this free webinar. Are you ready to listen to what they have to say? We know that Your Mobile Customer Is Ready To Engage – Are You?
Weekly Email Marketing News Digest
Last week's biggest tech news was arguably from Facebook. Days before Tuesday's announcement, the industry was buzzing with anticipation. Was Facebook going to launch a phone or a redesigned interface for mobile?
It turned out to be social search. While Facebook's Graph Search continues to be in the spotlight, what else is new in the world of email marketing?
Marketing automation may be the rage, but like all things in business, there's a way to misuse the tactic and cause damage to your brand reputation. Here are 5 things to remember with marketing automation:
Frequency of event triggers: (a) Don't annoy customers by sending too many messages based on event triggers. (b) Don't train them to expect discounts each time they abandon shopping carts.
Length of time: Take into account that the length of time between a trigger and an email in the customer's inbox can vary in effectiveness depending on time of the year. Test frequently to find the duration that gets the best results.
Personalization: Calling a potential "Dear Valued Customer" sounds robotic. Find a way to make the greeting more personal.
Mobile optimization: Ensure that even automated messages are rendered properly on mobile screens.
Time of the year: Coordinate messages especially in times of increased holiday traffic to ensure customers have a positive experience.
SMB Marketing in 2013: 85% of SMBs to increase use of email
Email is the most effective marketing channel for SMB marketers, with 77% of marketers reporting that it increases their revenue. Every $1 spent creates $40 dollars. Need some visuals? AWeber has created a great infographic to illustrate the results of their survey.
Smartphone owners more likely to read emails than make calls: stats
79% of smartphone owners use their device for email, underscoring the importance of optimizing emails for mobiles. Research by Adobe also shows that more respondents shopped on a tablet (44%) than a smartphone (20%). Respondents using the tablet were more likely to purchase a product on the device while the smartphone users were more likely to use the device for comparison shopping.
1 in 5 Marketers Say They Use Pop-Ups to Collect Email Addresses
A survey reveals that 22% of marketers are capturing email addresses through a pop-up box on their website. Most of these pop-up boxes are only displayed to new visitors. Other ways of capturing email addresses include:
Dedicated email page – 58%
Home page – 56%
Header – 15%
Footer – 38%
9 Reasons Why Your Email Marketing Campaign WILL Fail
Email is 7 times more effective than social media but if it's not working for your business, here are 9 possible reasons:
1. Give the Impression of Spamming
2. You're Not Cleaning Your Email Lists
3. Fail at Personalization
4. Don't Optimize Email for Mobile Phones
5. Don't Segment Your Email List
6. Don't Provide Value
7. Buy Email Lists From Disreputable List Companies
8. Exclude Contact Information
9. Don't adhere to CAN-SPAM
9. New List Members Are Not Properly Welcomed
If you're interested in making your campaigns more effective, try evaluating it from the technical side of things. Our partner Return Path explores possible reasons why your email is not making it into the inbox of your customer.
Struggling with bounces, blocks and other incidents? Check out our white paper on Adaptive Delivery® to see how it auto-tunes your outbound email delivery parameters in real time to optimize delivery, safeguard your reputation and improve manageability. 


With just two months to go before the event, we're deep into the planning stages for Interact 2012. One the high points from last year's event was the keynote presentation from Techonomy's David Kirkpatrick. An astute observer of the tech industry, David early on understood the importance of Facebook, and got direct access to the company's founders to write his definitive account of the company, The Facebook Effect. In his speech, David talked primarily about the ways Facebook evolved as a business, and how it's shaping society and attitudes toward privacy. But he also had some interesting things to say about how social media is changing business-to-consumer relations. Here's a short video from a conversation David and I had after his talk.
The behavioral changes in communication being pioneered by Facebook and Twitter and LinkedIn and Fourquare and some of those companies are inevitably going to affect the way every business has to operate.
If the Interact conference in San Diego back in October taught us anything it's that our clients and partners have a thirst for information on how they can use our software to boost messaging performance or innovate new service offerings. To that end, we're planning to publish a lot more customer case studies, how-to guides and use case pieces this year to help our customer base and the wider industry better understand how they can get maximum value from our software.
One of the topics we'll be addressing in an upcoming piece is preference management. Email marketers for many years have discussed the issue of permissions, and with good reason. A newsletter you eagerly sign up for in January can become an annoyance by April and by June you might consider it spam. Same with offers or notices from retailers or your bank or other business. Many marketers wrongly believe permission is permanent, when that's simply not the case. Permission is not evergreen, nor is capturing it once adequate for all purposes. A customer may express interest in receiving communications from you, but it is important to note that these preferences may change over time.
Not Just Email Permissions Anymore
These issues of preference management have morphed and expanded over time as social media, smartphones and proliferating message channel choices have created so many more opportunities for businesses to reach out and communicate with customers. For instance, if your prescription is ready at the pharmacy, would you welcome an email notification telling you so? Sure you would. How about a text? Probably, though you might prefer email over text if your mobile plan charges you per text received.
Similarly if you're conducting a job search, wouldn't you want to get an email or text if an attractive new job got posted that fits your search criteria? Of course. You might even prefer text over email in this instance since it's more immediate than email. The point here is that in the age of social media, cloud computing and smartphones, the possibilities for setting preferences and approaching preference management are endless. Eliciting and managing preferences is no longer just a concern for direct marketers. It's an issue that goes to the heart of core business processes for firms in a large and growing number of verticals.
How Social & Cloud Companies Do It
Companies like LinkedIn, Salesforce and Facebook do a great job of not just allowing their users to tweak their messaging preferences, but also making proactive assumptions about how their customers or users would like to be contacted. Back in September of last year, for instance, Facebook enabled their users to ratchet down the number of messages incoming to their mailboxes by transitioning to a single weekly or daily activity summary email. So instead of getting notified every time a friend followed up on a comment thread you'd joined in on, you'd get only a single email per day or per week. For active users like me, Facebook simply went ahead and implemented the digest automatically.
Proactively implementing this kind of change is somewhat at odds with the email marketer credo that all changes should be based on user permission. But it's also a realistic recognition that we're living in an age where the nature of communication is changing so fast that businesses have no choice but to monitor customer preferences, strive to anticipate emerging trends and give customers more choices. Just like email marketers continually refreshed permissions in years past by building interactive components into their mailings, businesses in social media, online retail and cloud-based services need to empower their users to personalize their messaging preferences in ways that best suit their needs.
This is not to say that businesses should aggressively push the envelope and seek to use demographic assumptions or turn to third parties data providers to expand lists and add new users without permission. There's a term for this, email appending (PDF), and it's very much frowned upon by MAAWG, the industry organization that governs email marketing and online messaging. So: creative, yes. Abusive, no.
An Issue For All Kinds of Businesses Today
For social media and other kinds of online companies creating a comprehensive preference management capability is a no brainer. Their business models depend to a large degree on customer engagement, so of course they want to empower users to take control over how and when contact is made. To a large degree conventional businesses in sectors like banking, healthcare and retail haven't had to think about preference management as a core business concern, but that's changing fast.
If your customer is interacting with your business through a smartphone – and if they aren't already they will be soon – you very much need to understand how, when and through which channel they prefer to communicate. We've got research that proves the point. And we'll have some more detailed collateral soon on preference management best practices and how Message Systems software fits into the equation.
Back in February Amazon Web Services caused some ripples in the messaging community when they announced the beta release of Simple Email Service (Amazon SES), which was proclaimed as a cheap bulk email-sending service for businesses and developers. (more…)
Some quick thoughts and impressions from the OMMA Global Show from last week in San Francisco…. (more…)
In the course of developing their recent white paper, "Preparing for Message Convergence," Dave Lewis and David Daniels adopted several terms to identify or describe certain new communications trends or concepts, including message convergence, device convergence and inbox convergence. I say "adopted" because these weren't exactly new definitions. A quick Google search shows that these terms have been in use for a few years – limited use, but in circulation nonetheless. As many of us here at Message Systems are now using these terms in conversation and in a lot of the content we're developing, I think it would be useful to get some definitions in place. (more…)