Warning: Bad Avocado Puns Ahead
As Community Manager at SparkPost, I believe my job has two major parts, or halves. It's as much about promoting and building the community inside of SparkPost as it is interacting with those of you who are using our product. In the rare moments when those two parts of my job connect (just like the pit connects avocado halves), you'll see me doing a happy dance like this around the office.
I had one of those moments when I sat down to figure out who won our first annual Avocado Points trophy. If you're feeling a little lost, just hang on. I'll explain how folks earned points, why we're giving away Avocado Points in the first place, and how my team is truly amazing (not in that particular order).
Everything I Avo Wanted
First things first… avocados. My coworker Aydrian and I love them. Also, one of our project managers has a hard time saying the phrase "Developer Advocates" (and perhaps also has a slight obsession with avocados), so we've became known as the Developer Avocado team.
Avocado Points were born a year ago when I asked our developers to help us out as we began to focus on building and supporting our community in new ways. To say they stepped up to the plate is putting it lightly. We set goals and stretch goals, and came up with rewards up for each level of avocado points, including "Sparcado" stickers and getting to throw pies at our manager.
What I didn't anticipate was the amount of pull requests, the willingness to help answer questions in our Community Slack, and the sheer number of blog posts that would be written, not to mention the talks given, hours spent helping out with booth duty at conferences, and their general awesomeness.
All that to say… they were avo control (in a good way) and it was everything I avo wanted.
<insert groans and weak applause here>
But as I'm sure all of you community folks know, it takes some work to get to this point! A lot of trial and error and prodding and advice-gathering. So how did we get here?
Let's Taco 'Bout It
When we originally started talking about Avocado Points, we wanted it to be an extension of traditional Slack karma: a way to acknowledge when our coworkers were doing awesome things above and beyond what was expected of them. In other words, we were looking to reward folks who spent extra time making sure that our client libraries were kept up to date, or offered to write a blog about something cool they were working on, or gave particularly good feedback on someone else's project.
Our bot-master Cole Furfaro-Strode built out a Guac Bot which we started using to nominate our colleagues. He also hid a few easter eggs in there for us to find. Let's just say "Guac me" became a popular thing in Slack for a few weeks.
But as the year got busier, nominations died off, and I struggled to find ways to continue rewarding folks for their work. Nagging was out of the question (we all know it never works), and besides, it wasn't like the contributions had died down… if anything, they were growing exponentially!
I settled into a regular routine of trying to keep track of what folks were doing (which, like nagging, didn't work), and finally resolved to award points for the most easily tracked things: blogposts written and number of hackathons or conferences worked. It was an ok solution, but definitely not ideal for representing our avo-awesome team.
Show Me the Guac
Fast forward to the end of 2016, and I was left with the difficult task of figuring out who had earned the most Avocado Points. On the surface, this was easy! Simply ask Guac Bot who the leaders were, and I was left with a fairly straightforward accounting of deeds. But as we've already established, this didn't take into account all of the things that affected our developer community, yet hadn't been awarded as Avocado Points when they happened.
So we took a step back. First of all, we had to figure out what things were deserving of an Avocado Point. This was arguably the hardest part of the whole job. We settled on 5 major categories: Github contributions, blog posts, Community Slack help, speaking engagements, and booth duty. Some of these things require more time or energy, and we weighted the scoring to reflect that:
Github contributions – 1 point for every 2 contributions
Blog posts – 3 points for every 1 blogpost
Community Slack help – 1 point for every 5 messages sent
Speaking engagements – 5 points for every 1 talk given
Booth duty – 5 points for every event worked
My colleagues Ewan and Jesse (bless them) helped me with the backend calculations of how many Slack messages our employees had sent in our #community-help channel as well as how many pull requests each employee had to public-facing Github repos. Long story short, I owe them a lot of guacamole.
Let's Guac & Roll
After all of the scripts were written, I created a giant Google Sheet and pulled in all of the raw data. One by one, I figured out who came out on top in each category, and then worked some formula magic to figure out who came in the top over all.
(If you're genuinely interested in seeing who all of the winners are and what they did, check out my letter to the team.)
To 2017!
As we dig into the new year, I'll be keeping an eye out for new ways to keep the community momentum going, both internally and externally. Have ideas on ways we can improve or want to share how you've encouraged your own internal community? Please let me know! Leave a comment below, reach out on Slack, or find me on Twitter. I'm all ears!
One thing's for sure: 2017 will have more avocado puns, and I'll be looking for all of them. After all, they make my heart happy (as avocados are prone to do).
Mary

The Community Driven Development Approach
April 2015 was an exciting time to be an engineer at SparkPost. Our service had just launched. We were seeing the results of all the hard work and dedication from previous quarters spent building our functionality, infrastructure, and teams.
Fast-forward to late February 2016. SparkPost had been generally available for ten months. Our community was growing steadily. We continued to make refinements to our service and infrastructure. We didn't know it at the time, but MailChimp had just announced some important changes to Mandrill that would change the way we interact with our community and how we improve and support our product.
In the days following the announcement, we'd go on to set up our community Slack and revise our product and engineering processes to embrace community driven development. We used the feedback and experiences to drive our decision making processes to execute on what really makes our community successful.
Channels for information
Several mechanisms for feedback from our community exist at SparkPost. I mentioned our community Slack. There, our community has access to SparkPost team members and, more importantly, each other. We learn from you not only through direct interaction but by observing, listening, and taking notes. Any member of our team can take feedback from community Slack and post it directly to a feedback channel in our internal Slack. There, our engineers, product managers, and executives have direct access to your comments.
Support tickets and Github issues are another essential method for understanding ways we can make our community's lives easier. Our support team does a great job of escalating issues internally to our engineering team as well as bringing up issues that are occurring repeatedly and brainstorming ways to address. Github issues allow us to understand how our client libraries are being used and where we can make improvements.
Attending meet-ups, conferences, and hackathons has been a major source of learning for us too. We get to spend quality time face-to-face with our community, learn about how you use SparkPost and what improvements might help you and your business be more successful. After each event we make a point to share learnings internally so that we can discuss ideas and issues that arise during our conversations with attendees.
What happens behind the scenes?
Collecting all this valuable input wouldn't mean much if we didn't act on it. In the past three quarters we've acted on a little over 50 items that were a direct result of the information we gathered from our community. These smaller items are what we consider quick wins – things like updating language in our UI, improving documentation, bug fixes, and minor feature improvements. Here are some examples:
Click to see event details in Message Events UI
Allow customers to clone Templates in UI
Create code samples for cc/bcc in the client libraries
Surface all 4xx API errors in the web UI
Add information about rate limiting and error responses to the docs
Fix click tracking on <area> elements
Additionally, the engineering, product, and support teams meet weekly to discuss customer impacting issues, solutions, and action items. Like many software companies, we also have a prioritized list of larger initiatives that we work our way through. Some examples of work completed from the past few quarters include:
Prioritization
Prioritization of new features and improvements is a constant work in progress. We do our best to compile all of the great feedback we receive and maintain a balance between addressing current issues and the planning and execution of new functionality and improvements. Some additional items we've heard our community request include:
Deliver webhooks by subaccount
View the contents of sent emails in the UI
View billing history in the UI
Add the ability to use a test API key
Reporting by geography in the UI
Support for stored templates with subaccounts
Lastly, the best way to stay up-to-date with what's new as well as fixes we deploy is to join the #announcements channel in our community Slack or keep an eye on our change log article. We update both every Friday when we deploy changes that we want to make sure you know about.
Onward & Upward
With 2017 nearly upon us, we're looking forward to implementing some of the improvements and features you've told us are important to you. Our community plays a major role in the development and evolution of SparkPost. We love to hear from you, so keep the feedback coming. And keep pushing us to deliver the best service we can.
—Rich Leland, Director of Growth Engineering
ps: Thoughts on community driven development? How do your teams prioritize and process feedback? Leave us a comment below.
What A Year
I'm currently sitting at a college hackathon, figuring out how to set up a triggered email response to folks who need a reminder about their New Year's Resolutions. A good portion of my day has been spent talking students through how to set up the proper SPF and DKIM records in their DNS settings. To say I've learned a few things over the last year would be putting it lightly!
As I come up on the end of my first year at SparkPost, it's easy to count my blessings, which is appropriate given that it's Thanksgiving week.
Thank You
First and foremost, I'm grateful for you, our community. Our mission is to empower and energize our community to be successful with SparkPost. But, I think I speak for all of us when I say that you've energized us as well. You've stepped up in ways that we never expected, writing client libraries, submitting innumerable pull requests, offering feedback, and helping us build SparkPost into the best cloud email platform. You've helped each other out and found like minds in our Slack community. Best of all, you've given us invaluable feedback, helped us refine our user experience, and built some pretty awesome applications.
I'm also grateful for all of the interactions we've had in person! From San Francisco to New York and everywhere in between, we've talked to you, worked alongside you, watched you build amazing applications, and had a lot of fun getting to know you better.
Lastly, I'm grateful for all that I've learned because of and through you. Email is hard, and I've learned the ins and outs of SPF, DKIM, IP pools, deliverability, suppression lists, and more, and then done my best to make that new-found knowledge available to you as well. After all, the more you know, the more email-savvy you become, and that makes everyone's lives better.
The Best is Yet to Come
As we prepare for 2017, there's lots of good things to come! More tools and sample applications, better resources and ever-improving documentation. Also, even more conversations with you about how we can better serve your needs! Finally, speaking of conversations, if you're planning to attend AWS re:Invent in Vegas next week, be sure to say hi! We'll be the ones in bright orange t-shirts, and we've actually set some time aside on Wednesday to buy you a cup of coffee. Be sure to swing by!
Have feedback for us? Come chat in Slack — we'd love to hear what you're working on and how we can help! Thank you for your efforts in making this community a great place to be!
-Mary

Can't Get Out of Your Slump? Check Out These Productivity Tips.
We all have those days… the ones where every distraction is far more enticing than what we're supposed to be accomplishing for work. Sometimes we're able to pull ourselves back with sheer determination and willpower. Other times, let's face it, we're driven solely by guilt and a sense of responsibility.
So how do we keep the productivity train rolling and the hazardous distractions from popping up? I turned to our community to find out what their best productivity tips and tricks are for keeping on track throughout the day.

Understand the Scope of the Project
One of the biggest enemies of productivity is ambiguous direction. Nothing is worse than finishing a large project, only to find out that your idea of "complete" wasn't remotely the same as the person who requested it.
"If someone says 'I want an artificial intelligence based recommendation system,' that could be something I could do in 10 minutes or spend my entire life on. The entire "task" becomes unapproachable," says David Antaramian.
"Whittling it down to 'I want an artificial intelligence system that always recommends at least 5 users for me to follow and is updated every minute,' that task is much more approachable because I have boundaries to the task and a definition of when I will be 'finished' with the task."
Many companies use the SMART method to help define goals. This method helps you think through projects to make sure they are Specific, Measurable, Achievable, Relevant, and Time-based. This ensures that the project is both well-defined and aligned with company goals.

Work in Small Increments
Understanding the scope of a project allows you to break it into smaller, more manageable increments. This takes away some of the "Where do I start?" predicament that can so often paralyze and stall even the best minds. Getting Things Done author David Allen says, "You don't actually do a project; you can only do action steps related to it. When enough of the right action steps have been taken, some situation will have been created that matches your initial picture of the outcome closely enough that you can call it complete."
This also allows you to make your work visible to those around you. Darren Cauthon refers to this as producing output: "Tickets, screenshots, messages, unit tests, branches, pull requests.  There should be outwardly visible output on everything I do." This gives you the satisfaction of crossing things off the list and also keeps you accountable to your team for what your progress is on a particular project.
Steve Lackey suggests making a game out of small goals, seeing how many things you can accomplish in 10-30 minutes perhaps, or how many Pomodoros you can check off in one day. "The first step is to break the projects down into a list of smaller tasks," he says. "For a larger project I tend to use either a spreadsheet, tiddlywiki, or even markdown documents in a common directory to manage notes and lists."
This helps keep the project manageable and also gives you a clear path to follow. For Antaramian, simply seeing results feeds into that feeling of productiveness, which furthers the productivity. "You could think of it as working with yardstones instead of milestones," he says. "Break it down into smaller increments that show value."

List One Key Goal for Each Day
Breaking your projects into small tasks also allows you to define a clear goal for each day. Barthelemy Dagenais says, "I need to have at least one clear output done by the end of the day." This might only be one portion of your overall project, but having that one clear output that you can hold up as the day's accomplishment can sometimes be just what you need to have the motivation to start the next task.

Take Short Breaks
Now that you've broken your projects into smaller tasks and started to whittle down that list, make sure you're taking breaks to rest your brain in addition to your eyes! The Ontario Ministry of Labour actually requires it at some jobs and emphasizes that "short, frequent breaks are much more effective in preventing excessive fatigue… than longer, less frequent breaks."
Jenn Lebowitz agrees that "brain breaks" are good for productivity after long periods of intense focus. Whether you head to Dunkin' Donuts (Jenn's favorite), to the beach (my favorite), or simply step away from your computer to stretch your neck out, it's bound to make a difference in your focus when you sit back down to tackle the next task.
Need yet another push toward remembering to schedule breaks throughout your day? Ciphr lists 6 great reasons why breaks are useful, covering everything from increased productivity to improved relationships with your colleagues!
Hint: If you're looking for apps to help you remember to take breaks and de-stress, Techlicious has a great round-up post. 

Optimize for Time of Day
Lastly, figure out your "brain schedule". I set aside an hour or two early in the afternoon (aka after my coffee kicks in) to write blog posts and tackle strategic tasks that require my full attention. My mornings are reserved for smaller, more manageable tasks and teamwork, including reviewing changes, brainstorming new ideas, and responding to community members.
Dagenais's schedule takes a slightly different slant: "I work on different tasks depending on the time of the day. Early morning and morning are for creative/software design tasks. I never work on software design in late afternoon or evening because I'll probably have to fix it the next morning, so it's not really productive. Writing tests and lots of code once I have a clear direction is best done during the afternoon. Meetings that require creativity or critical input from me are best done in the morning too."
Optimizing for particular times of day and the way that your brain works keeps you from banging your head against the wall to solve a particular problem that you might be able to cross off your list in no time, if you were only in the right frame of mind.
What Are Your Productivity Tips?
What are your tricks for staying productive? Leave a comment below or shoot us a tweet to let us know where you stand on Pomodoros, goal-setting, and best times for brainstorming.
— Mary
The community of developers working with SparkPost really has stepped up in the last few months: submitting pull requests, writing new client libraries, finding bugs, and helping each other out in our community Slack. They say you are the company you keep—well, if even a small bit of your collective awesomeness rubs off on us, we'll know we've made it. 🙂
We'd like to show a little bit of love in return by highlighting some of the community members who've helped raise the bar for SparkPost and our tools. Today, I'll start with Darren Cauthon, who contributed the SparkPost C# client library. I asked Darren to share a little bit of his point of view.
How long have you been a developer and what got you started in the tech world?
I've been a developer for over 15 years. I got started with tech in my sophomore year, right around the time my college forces students to pick a major. I thought about being a music teacher or going for a general "business" degree, but I remembered that programming in QA Basic in junior high was fun. So I signed up for my first C++ class and never looked back.
What do you like most about being a developer?
Working with all types of people to solve new problems. The tech is fun, but using it to solve actual problems that exist in reality makes it very fulfilling.
What led you to contribute to open source projects?
Two things. First, I got over the fear that my code wasn't good enough. Second, I've found it's hard to grow as a developer when I'm limited to solving the problems that my business has. Open source provides the opportunity to solve problems that I'd otherwise never think to solve, and it provides a chance to work with developers I'd otherwise never know.
How did you find SparkPost?
My company was about to deploy a new Mandrill solution when their big shakeup occurred. We looked for alternatives, and my boss noticed SparkPost due to your relationship with Port25 (which we used for other solutions).
What prompted you to create the C# client library for us?
I saw there wasn't one, and I wanted the experience of writing the library. I've learned a lot about email processing and C# features while working on the library, and that's knowledge I'd never have gained otherwise. I'll be able to apply that knowledge to many more things than just this library.
What's the hardest thing about contributing to an open source project?
Saying "no" to contributors. Sometimes someone may offer a pull request with a feature or change that doesn't fit. I hate having to say "no" and reject what another developer has spent time writing. But luckily I haven't had that problem with this library, as we've had a great group of developers contribute new features—and every contribution has fit.
What are you passionate about outside of work?
I have a great family, and raising kids is fun. I've been a tuba player for over twenty years, and I'm slowly working towards a black-belt in Tae Kwon Do. I have a 2016 resolution to beat Ninja Gaiden without dying, so I like older console gaming. But my first passion is still programming.
I was really glad to have a chance to talk with Darren and learn more about his point of view. His project really has been a great addition to the ways folks can use SparkPost. Thanks, Darren!
Do you have an idea or project to contribute to this great community of developers? Give us a shout on the SparkPost community Slack, and you might wind up in our new community features series.
—Mary
p.s. you can check out another one of Darren's C# libraries here.
SparkPost's Seattle, Maryland and San Francisco Offices Volunteer for a Day
One of the reasons I really enjoy working for SparkPost is the value that's placed on community. Our founder George created something he calls "The Circle of Awesomeness" as an expression of our corporate values, and those values are the first things reviewed at every new employee orientation. We care about our customers, our employees, and the communities we're a part of. In that spirit, it's in our employee handbook that everyone gets a day each year to volunteer for a charity or cause of their choosing.
Employees are welcome to volunteer on their own, or participate in organized events set up by each regional office. Below is a recap of what we've been up to so far this year. The organizations for which we volunteered do some pretty amazing work to help our communities. Be sure to check out any that might speak to you. They all could use your support.
San Francisco
Muttville
A shelter for senior dogs, Muttville re-homes older dogs (they won't take an animal younger than 7 years old) who might not otherwise get adopted. We spent an afternoon at Muttville doing a variety of tasks including painting, mailing thank you letters for donations, prepping supply kits for new adoptions, and giving the pups plenty of quality time. The shelter is cage free, meaning the dogs are free to roam around and hang out with each other (and the volunteers, too!)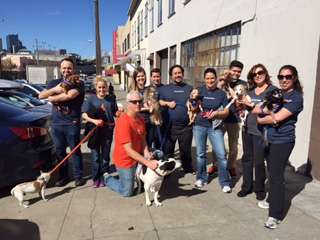 SF-Marin Food Bank
The SF Marin Food Bank is responsible for distributing 100,000 meals worth of food each and every day in San Francisco and Marin counties. Our team was greeted by the volunteer coordinator, then quickly put to work sorting tubs of oranges, packing them in boxes and getting them ready to be shipped to local food banks, churches and public schools. At the end of our shift, the team had sorted through and boxed over 23,000 pounds of oranges (that's more than 20 tons)! We'll definitely be back.
Seattle
SAM Lights
Our Seattle team volunteered their time setting up for the SAM lights. It's a free exhibit, held once each year in the winter, that's open to the public. SAM lights take place in the outdoor sculpture park and attendees can wander through the sculptures and listen to live music.
Maryland
Habitat for Humanity ReStore
Part of our Maryland office headed to Habitat for Humanity ReStore. ReStore is a non-profit that operates to build affordable homes for families in Central Maryland and protect the environment by diverting usable items from landfills. They sell used and repurposed furniture along with kitchen goods and household items, and the money goes toward building the affordable homes. Our team spent the day organizing fresh donations, assembling furniture and cleaning up the warehouse and showroom floors.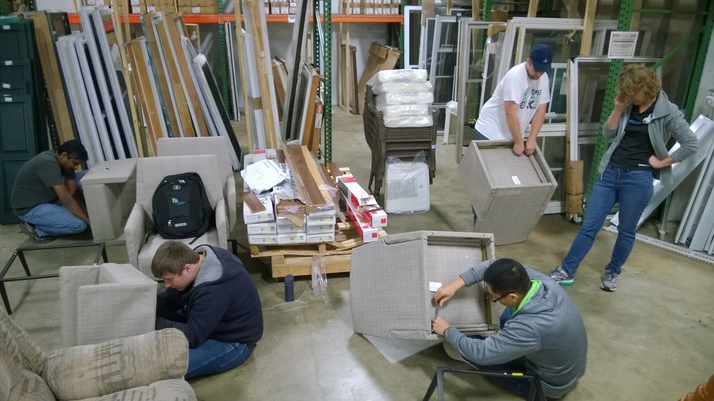 Maryland SPCA
The other portion of our Maryland group headed to the Maryland SPCA to spend quality time with some animals in need. We accomplished quite a bit in a short amount of time, including walking dogs, cleaning kennels, light landscaping and office admin duties.
Working for a company with lots of enticing perks is great, but working for one that cares about its surrounding community and incorporates those values into the perks is even better. It meant a lot to me to be able to see the impact these great organizations have on our communities—and it felt really good to contribute to that as a volunteer.
What are your favorite causes in the San Francisco, Seattle, and Baltimore areas? We'd love to hear your suggestions for future projects!
—Jen
P.S. Want to learn more about what working at SparkPost is like? If you like what you see, check out our open positions.

How Community Pull Requests have made migrating from Mandrill to SparkPost smooth
The last two months have been a rush! As the community manager here at SparkPost, a large part of my job falls into the hard to measure categories of brand awareness and garnering feedback from the community. This is usually what they call a long-tail endeavor — something that you don't expect to see dramatic results from immediately. Until, that is, something upheaves the industry.
This is every community manager's dream — what we were made to do! I refilled my coffee mug, rallied the troops (most of whom were already online), and we took up the banner of answering questions, pointing people to resources, and burning the midnight oil helping out developers who were left treading water in the wake of the news.
You all came out of the woodwork suggesting feature requests, offering feedback, giving us new use cases, and in general being awesome. We hope that you've seen us respond in kind with our wholehearted appreciation and support, and occasionally a t-shirt or sticker thrown in.
If you've missed the recent digests with everything we've pushed out in the last few months, check out what Amie Durr and Josh Aberant have to say. But we aren't stopping there! We're still prioritizing new feature requests, building new tools, accepting pull requests, and more, as well as having daily conversations with you all in our Slack channel.
We know you've been busy as well. We know this because we've watched you pull together as a community, build resources to help each other out, answer each other's questions, and submit pull request after pull request after pull request after pull request after… well, you get the idea.
On behalf of myself and all of us at SparkPost, thank you, thank you, thank you! All of your pull requests, contributions, feedback, support, and encouragement have meant the world to us. Your feedback is directly affecting our decisions, priorities, and direction as a company. After all — you're the ones using the product! It's been a crazy ride so far (and we know it's not over yet!), but messages like these have kept us going, and warmed my community-loving heart:
Changing all my email to @SparkPost could not have gone smoother. You have the gratitude of this Mandrill refugee.

— Shane Gowland (@ShaneGowland) April 11, 2016
@SparkPost We integrated with you in one day, only looked at the api docs twice, and we actually simplified our existing code. You rock. ♥

— Kyle W. Cartmell (@KyleCartmell) March 18, 2016
Playing around with the awesome #sparkpost #API. Already like it a lot! #WebDevelopment

— Per Lund (@dotper) March 11, 2016
@Sparkpost I just wanna say, you're taking this "being Mandrill's awesome replacement" thing very seriously, and I admire the crap out of it

— Silver Eagle 🦅🌹 (@SilverEagleDev) March 23, 2016
Just got amazing support from @SparkPostDev ! Thanks nick

— Pascal (@pascalschoeni) April 13, 2016
Just tried @SparkPostDev, great support, excellent infrastructure, totally recommend them!

— Nick (@NicolasGuzCa) March 8, 2016
super impressed with @SparkPostDev helping me with things… api keys, SPF/DKIM, etc. looks like @SparkPost is going to be my smtp service!

— Derick Bailey (@derickbailey) March 3, 2016
Daily sending limit raised within the hour of an email to support. I'm really digging @SparkPost more and more!

— Ramon de la Fuente (@f_u_e_n_t_e) April 18, 2016
Just migrated my customers' Mandrill templates over to @sparkpost. Their migration tool works very well: https://t.co/qateqaPyQ2

— Josh Harms (@nozzlegear) April 18, 2016
@SparkPost Great conversation and timely support! Kudos to your team for deploying @SlackHQ for customer support! Makes life easy!

— Harsha Vardhan (@harsham) April 19, 2016
It took us all of 10 minutes to swap @featureswitches from #mandrill over to @SparkPost and we are super happy. https://t.co/9cloNDwfjj

— FeatureSwitches (@featureswitches) April 21, 2016
In short, we ♥ developers and we ♥ you. We're all in it to make SparkPost the best possible service for our customers. And while the last 2 months have been full of all sorts of exciting developments, keep your fork — the best is yet to come! Also, if someone wants to invent an IV coffee machine and send us a prototype, I don't think anyone would complain 😉
-Mary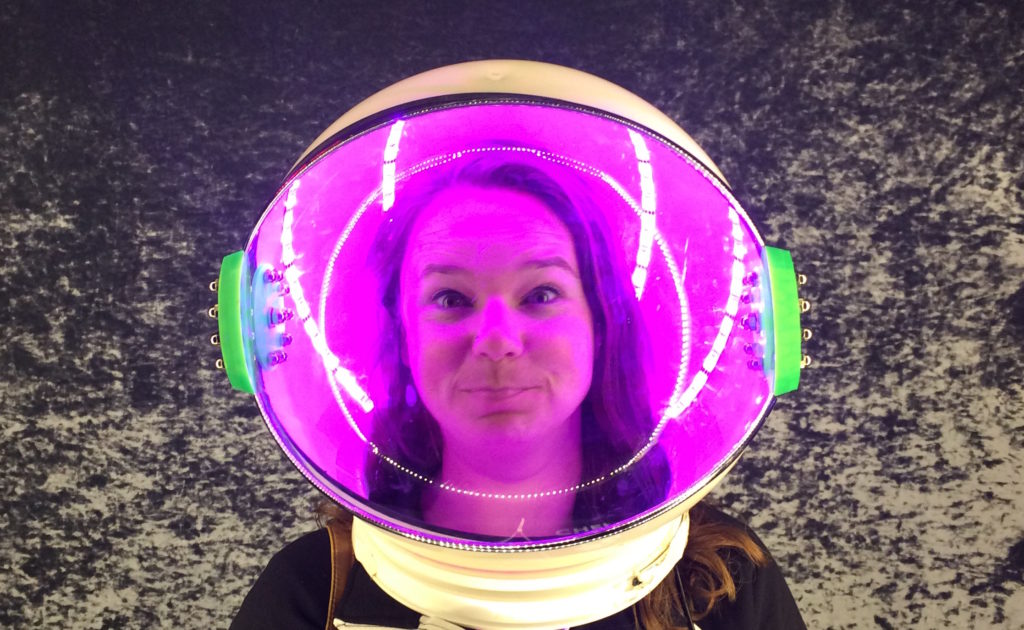 Hi there! I'm Mary (@mary_grace), and as you may have heard, I'm the new developer community manager at SparkPost. Things are finally starting to slow down after three weeks of onboarding, training, and lots of fantastic conversations, so I thought I'd take some time to introduce myself.
I'm based in San Francisco, and am a (Northern) California girl, but also spend a fair amount of time in NYC with my boyfriend, Jeremy. I'm a connector of people at heart, both personally and professionally, and love digging into the strategy of how to build and foster communities.
I've been a part of the developer community for a while now, but have taken a bit of an unconventional path to get here. My background is in communications and journalism, but after 5 years of talking at my community via press releases and social media, I wanted to have conversations with the community. I wanted to know if they were actually interested in our content, what excited them, what new projects they were digging into, why our resources were (or, more importantly, weren't) helpful. So I transitioned into a community manager, builder, advocate, architect, and developer, and I've never regretted it!
I'm also often known as "the one with the dog." My dog Ember (like the coal, not the JS library ;)) travels with me everywhere and serves as my super-nose, smelling when my blood sugars are starting to run too low and warning me before I can feel the symptoms myself. Bonus: He also serves as a quick and easy reference point when people are trying to track me down at an event.
Given my busy personal and professional life, I'm often on the road, but in my spare time I love to explore new cities, fly in the wind tunnel, listen to music, read books, and occasionally dig into crafting, sewing, and making projects. You can also often find me running local trails or at the beach with Ember.
I hope to meet all of you on the road soon. In the meantime, introduce yourselves here! Where are you based? What are you excited about working on? Is working with email & APIs a hobby or a career choice (or both)?! 
Lastly, if you've been keeping an eye on our developer hub, I, along with the rest of my team, want to help you build something awesome! So if there's something missing, something we could be doing better, or something we could do to help you build more awesome things, drop us a line. Want to reach out to me directly? You can find me on Twitter, GitHub, and as always, via email.
Vetting the best content on email around the web this week
The thoughtfulness and real sense of community is one of the things I find most valuable about working and talking with my peers in the email space (c.f. the inimitable value of our annual Insight user conference). So I thought this week, I'd share some of the most interesting articles about email and email marketing I've seen elsewhere on the Internet. These links are 100% vetted. Give them a read—they're worth your while!
—Brent
@brentsleeper