Your application's emails:
Delivered on time and to the inbox.
Trusted to send 25% of the world's non-spam email
Being a premiere customer of the SparkPost service has allowed us to achieve high levels of reliability and performance … We are very excited to work with SparkPost.

Tara Clark, Director of Email
SparkPost provides us with the real-time email metrics we need. We can dynamically adjust our content and how we send email based on live feedback. All messages are one-to-one, based on users' interests.

Seth Weisfeld, Engagement Manager
With SparkPost's advice, we can find and solve problems before they become widespread and hard to mitigate. The proactive support we get from the team and their around-the-clock availability are second to none!

Penny-Merelle Gray, Delivery Customer Support
The most performant email delivery service—whether your app or website sends hundreds, or billions, of messages
More than just an email API—sophisticated features for applications big and small
Powerful templating, multiple webhook addresses, and multi-account features let you build applications that engage, retain, and rapidly grow your user base.
Missing or delayed product emails lead to customer churn
App-generated emails—often called transactional emails—are messages sent by your application or website in response to a user's behavior. They play a critical role in acquiring and retaining users, and customers churn when transactional emails are delayed or lost in spam folders.
Two Factor Authentication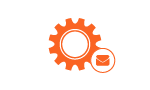 Focus on delighting users, not managing email servers
Easily embed email into any app or website with SparkPost's REST and SMTP email APIs.
Or use client libraries available for many popular languages.
Build better apps with email
Discover how SparkPost helps product development teams build great apps with email. Speak with a product expert today to learn more.
Schedule a Demo